How to Teach Students Leadership Skills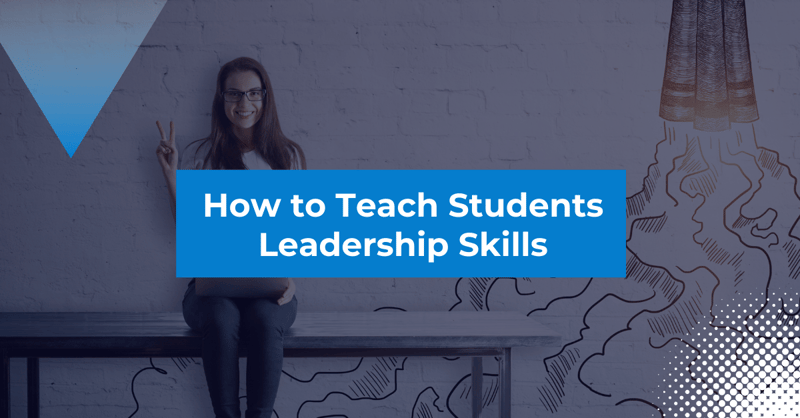 Teachers, professors, coaches, and educators, this message is for you. It is our responsibility to prepare the next generation to become great leaders and take people, the planet, and profits forward with them. There is boundless potential out there, it simply needs to be unlocked, and you have the platform to do so.
Now that you know the task in front of you, it's time to explore the question - How to teach students leadership skills?...
Start Delegating Responsibility Immediately
How can any student hope to lead if they are not given opportunities to do so? Whether teaching lower years, teenagers, or adults, one key theory remains the same - help them to help you.
Here are some ways you can share responsibility:
Trust the students to pass around the register and sign themselves in, rather than calling attendance and wasting precious learning time
Create a list of reading materials and let the students choose, democratically, which book or text they will study next
For teenagers and university students, encourage them to open a group chat (with you in it) where they can discuss work, ask questions, remind each other of deadlines, share resources, and more
For times when the students are hard at work, play some music, however, not your music. Ask them to collaborate and create a work-friendly Spotify playlist for all to enjoy
These are just a few examples, but they all represent the same thing - asking students to work together as a team of collaborators to achieve something greater than what they had before.
Give Them Role Models to Lean On
Young minds look to other young minds for inspiration. Young people are inspired by the dedication of Greta Thunberg, the talent of Billie Eilish, and the charitable efforts of Marcus Rashford. Young role models like these help to show students that their age should not be a hindrance when it comes to being a leader and making a positive change. It's not wrong to show inspiring adult leaders, but it might have the reverse effect, so it's important to find changemakers in the same age group as your students.
Remember that a leader doesn't need to be a celebrity or a household name, it can be a student who is doing something for their community, a scout, or a young person who has done some public speaking for a notable reason. Once they see good examples, students may find motivation and ways to follow suit, nurturing leadership skills from within.
Teach Them About the World
Changemakers need to be aware of the current state of the world in order to understand where they can have an impact. Considering this, it's the role of the educator, coach, or teacher, to make their classroom and lessons a place of awareness and open dialogue. Talk about the current news, problems in faraway lands, international dilemmas, and what the future may hold. Don't limit the discussion to distant troubles, also hold talks about community issues, local concerns, and things that young people might be worried about. Once the problems are on the table, talk about solutions, how we can make a change, and most importantly, what they can do to make a difference.
Your classroom could be the place where a leader is born. We live in a globalized world and we need leaders who can think in earthly terms, as well as consider the interests of their immediate community.
Tell Them About Leadership Directly!
Your leadership lessons can start by teaching them about the world, showing them inspirational figures, or by giving them some tasks to demonstrate how responsible they are, or, you can just be direct with them.
One of the best ways to encourage students to think about leadership skills is by hosting highly productive classes and training. Within these classes, discuss how becoming a leader can have a dramatic positive effect on their lives, both present, and future. Provide interactive opportunities, start interesting debates, and provide stimulating examples.
Let's talk more about the opportunities found in an interactive classroom…
Provide Opportunities for Simulated Leadership
Here at StratX Simulations, we've found strong evidence through years of experience that simulated experiences are the quickest, safest, and most engaging way to develop leadership skills among students. Learners are given the opportunity to see how their skills fare, how their decisions take effect, and how they respond to a variety of situations, each of which offers important personal insight.
Simulations have done so much for leadership development among students that even major industries, international universities, and business coaches are applying this technology. When they first hit the scene, simulations weren't so accessible, but now any educational facility, small business, and individual can make use of simulation technology to hone their skills.
The opportunities for customization in simulation courses also allow educators to tailor the experience to the age, needs, and abilities of their students.
Encourage Extracurricular Activities
In a world where young people move seamlessly from one screen to another, try to encourage extracurricular activities that give them opportunities to lead, to work in organized teams, and that gets them outdoors. Suggest sports teams, social clubs, and activities that probe their curiosity, interests, and specialist knowledge or abilities. Especially, encourage them to take part in extracurricular activities where they will get a say in the organization, decision-making, and management aspects.
Verdict: A Journey to Create New Leaders
Let's summarise:
Provide students with opportunities to demonstrate their existing leadership skills
Inspire them with role models of a similar age
Help them think in a globalized way
Teach them about leadership and its importance in a straightforward manner
Introduce simulation as a method of testing skills and improving decision making
Encourage students to get outside and do new things
The current crop of students are blessed to be born into a world of technology, where information is at their fingertips, and new skills can be learned in minutes. No generation before has ever had such a luxury, and yet it's on us to make sure that this information overload is put to good use, helping inspire young leaders who are informed, think critically, and can guide others based on reason, logic, and data.
Equip your students with the leadership skills they need to succeed in tomorrow's workforce. Get a free simulation demo today.