Bridge

the digital skills gap
Digital Markstrat is a digital marketing simulation that is built on the renowned model of the number one strategic marketing simulation Markstrat, while combining key learnings from the digital era. The simulation will keep your participants on their toes as they put long-term strategies in place to grow their fictitious company's Share Price Index in a highly competitive and digital sensitive market.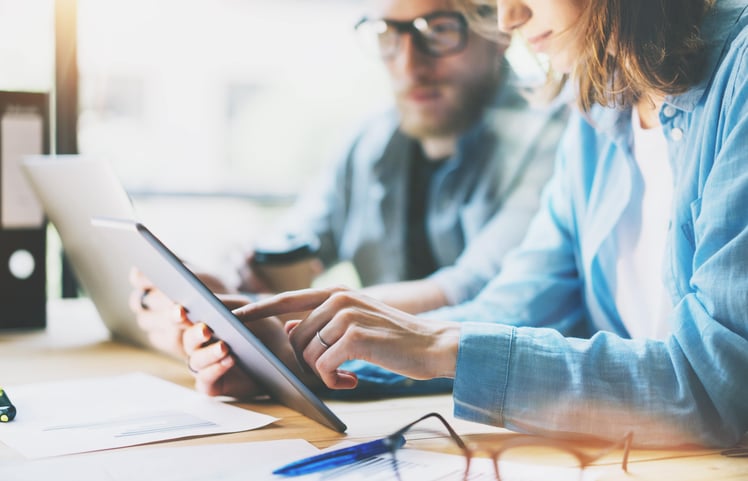 Digital marketing
strategy
Segmentation

&

positioning

in a

digital sensitive market
Brand portfolio
management
Manage

established

&

emerging

markets
Conduct

market

and

competitor analysis
Blend

digital

and

traditional marketing strategy
Research
&

development

projects
Develop acumen to build a long-term

strategic marketing plan
Traditional

&

digital

sales and distribution

strategies
Digital Markstrat

features:
A cloud-based learning tool
Modern interface and intuitive navigation
Will leave your students with a highly memorable learning experience.
Use for remote, blended or face-to-face programs
Available in 3 languages: English, French and Spanish

B2C- Durable Goods
Your participants will be tasked to manage the marketing department of an electronics division of a large corporation. They will compete with several other firms to market two types of durable goods to consumers and will be responsible for formulating and implementing the long-term marketing strategy of their division with a strong focus on digital marketing strategy such as implementing inbound campaigns and growth hacking opportunities to accelerate the marketing funnel.
Using industry-focused and digital marketing vocabulary and industry settings adapted to B2C situations, Digital Markstrat will give your participants the ultimate immersive experience of working in the B2C industry.
What

instructors

say about Digital Markstrat: