How Business Simulations Make Teaching Easier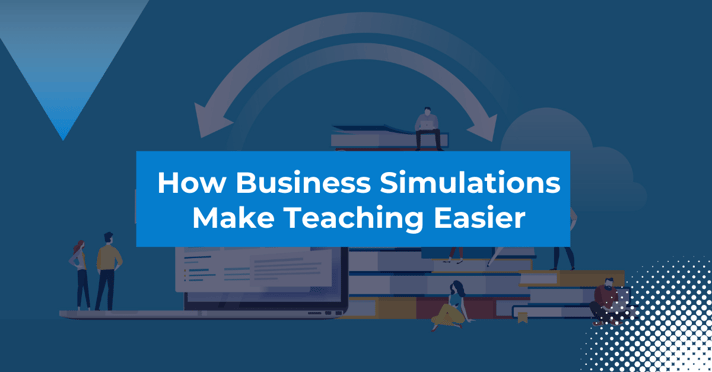 Let's face it, your role as a professor or instructor is more challenging than ever. On top of juggling various administrative tasks and planning lessons, you also need to focus on student engagement. Of course, students have become increasingly distracted, especially now with distance learning the norm. At times, it seems next to impossible to keep them motivated to learn.
For those who work at research-oriented universities, your time is often split between research and teaching, so it becomes difficult to fully devote yourself to giving top quality instruction to your students as you might wish to do.
What's an instructor to do?
Facing these obstacles, you probably feel overwhelmed. If only there was a quick fix to alleviate some of these issues and make your job easier, and your coursework more impactful for your students.
The good news is that business simulations can help you create engaging courses without having to spend hours planning. Here we list 5 reasons how business simulations can make your job as an instructor easier and your courses unforgettable for your students.

They put business theory into practice
Since students take on management roles in a fictious company, they need to make strategic decisions to grow their business, applying theoretical business concepts in a practical way. Since they see the outcomes of their decisions, they are able to retain learning more effectively than just through theory alone.
Built-in teamwork activity
In addition to putting into practice realistic business scenarios, business simulations allow students to build on critical soft skills such as teamwork. By working together as team to solve business problems and make decisions, they learn how to deal with different personalities, much like in the workforce.
You will spend less time planning, teaching & grading
In just a few clicks, our simulations are ready to run for your specific course, no matter the format. Online automated debriefs and coaching sheets also help cut down on teaching time. Additionally, online questionnaires and grading tools test learning outcomes & assess participants for you. You can use the online dashboards to keep track of participant progress. And finally, all manuals and introductions are available online, and some sessions are recorded.
Easy-to-use
All our simulations are web-based, which allows you and your students to access them from anywhere as long as you have an internet connection. We also include instructor and student guides that explain the entire process, so it's easy to run the simulation from the instructor's end and for the students to go through the challenge.
They create a fun, memorable element to your course
One way to combat boredom and monotony in the classroom is through business simulations. The competitive nature, fast pace and hands-on experience create an intense energy which makes participants eager to apply their new skills. It's a lot of fun, but also hard work. Students often remember the simulation experience as one of the most impactful and memorable parts of their academic career.
What's next?
Still not sure if simulations will help improve your teaching experience? Schedule a personal demo with one of our advisors. Our team of experts will help guide you in finding the right simulation for your course and will answer any questions you might have.