A Virtual Marketing Challenge Success Story with Roquette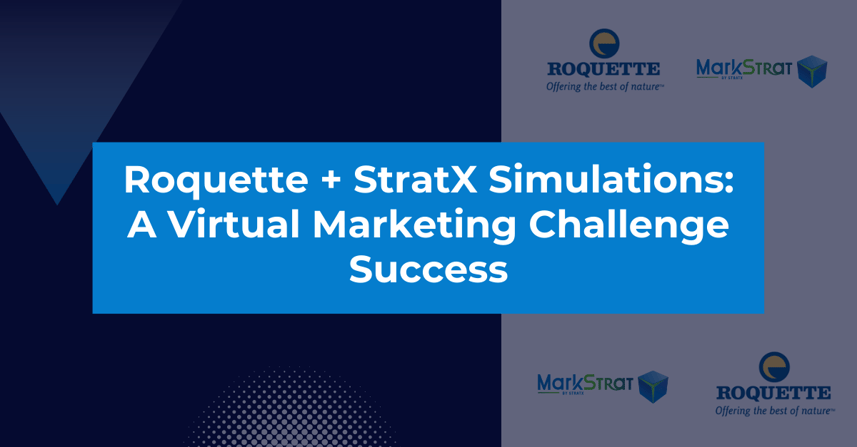 Situation
How do you build marketing excellence across business units located in different time zones worldwide during an unprecedented period?
Roquette a global leader in plant-based ingredients for food, nutrition, and health markets, wanted to improve their global marketing teams' capabilities, but had to face some initial challenges.
The Program
Their first idea was to have their teams congregate to play the Markstrat business game together in person. Then, Covid-19 hit. Their Marketing Excellence Learning department, facing the challenge of not being able to gather their marketing teams face-to-face anymore, implemented an innovative solution to solve this problem: they decided to use the business game virtually. That is how the Roquette Marketing Virtual Business Game challenge was created.
The goal? Learn new marketing concepts as a team, test them, and see what business impact they had in a short period of time. The question was, would they achieve this in an online context?
Outcome
Their Markstrat pilot program was a true success: over a span of two and a half days, 30 Roquette marketers from across the globe played the highly competitive business game, launching products and making critical decisions in pricing, R&D, marketing & sales strategy. They were able to collaborate and get to know new peers across business units globally, all done virtually though Microsoft Teams.
The results were rewarding, according to Severine Lobeau, Program Sponsor & Head of Marketing Excellence at Roquette and Antoine Billa, Global Market Manager and participant. Watch their full testimonial here:

Thank you for collaborating with us, Roquette.
We are proud to partner with leading organizations through our engaging, action-based business simulations whether virtually, blended or face-to-face.
Find out how StratX Simulations can help boost your teams' competencies in strategy, collaboration, critical thinking and more.