Navigating the Challenges of AI in Education: The Role of Business Simulations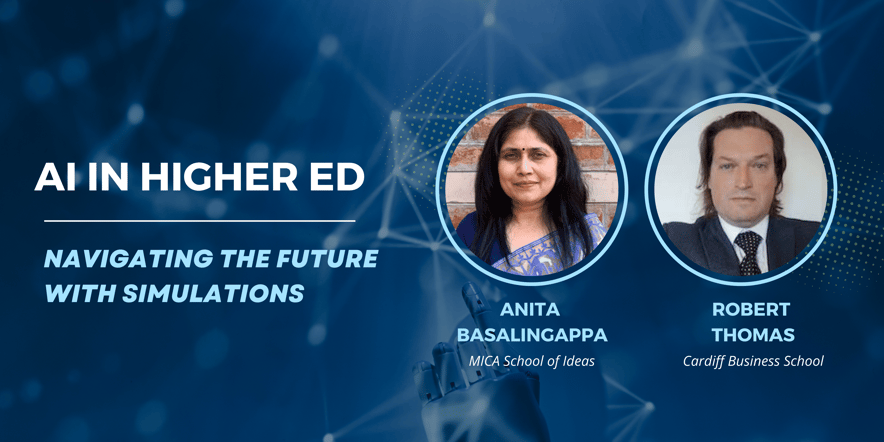 In today's rapidly evolving educational landscape, the integration of artificial intelligence (AI) presents both opportunities and challenges. While AI offers a powerful tool for enhancing education, it also raises concerns regarding academic integrity and plagiarism, particularly when students use AI-generated content without proper attribution.
In a recent webinar (in case you missed it, here's the recording), we had the privilege of hearing from two experienced educators: Anita Basalingappa, Marketing Professor at MICA School of Ideas, and Robert Thomas, Marketing Lecturer at Cardiff Business School, who shared their insights into how they are addressing the challenges posed by AI in education. Their discussion centered on the role of business simulations in addressing these challenges and fostering genuine academic growth.
The Challenge: AI and Plagiarism
Anita, an accomplished educator at MICA School of Ideas, expressed her concern about the growing issue of student plagiarism facilitated by AI tools like Chat GPT. While she empathizes with students, she recognizes the need to address this problem proactively. Anita suggests an innovative approach to encourage responsible AI tool usage among students:
Students are encouraged to use Chat GPT for research, even including it as part of their course materials.
However, students must submit the prompts they used when interacting with Chat GPT.
Anita introduces a rewards system, where students receive recognition for crafting thoughtful and relevant prompts that drive valuable responses.
This approach empowers students to master the art of asking the right questions, fostering responsible AI tool utilization as a learning aid rather than a shortcut.
Anita uses Digital Markstrat in her courses, and finds this approach complements the simulation experience seamlessly.
The Solution: Business Simulations
Robert, another distinguished marketing educator at Cardiff Business School, offered his perspective on tackling the AI challenge. He firmly believes that AI is here to stay, and educators must engage with it constructively. However, his concern lies in students solely relying on AI-generated content to obtain degrees without acquiring essential skills and knowledge. To address this challenge, Robert champions the use of business simulations, a powerful tool that provides a real-time, decision-driven learning environment.
Business simulations create an environment where students must function proactively or reactively within a competitive, dynamic context.
Real-time engagement within simulations diminishes the need for AI shortcuts, encouraging students to focus on developing critical skills.
Simulations offer practical experiences, collaborative teamwork, and real-time challenges, fostering ethical leadership and academic integrity while discouraging plagiarism and AI misuse.
Robert emphasizes that integrating these simulations makes learning more interactive, engaging, and enjoyable for students.
The Power of Simulations
Both Anita and Robert shared the following insights regarding how simulations can be a powerful tool when confronting AI in education.
Business simulations like BrandPro and Digital Markstrat offer students an experience that AI cannot replicate. In these real-time, competitive environments, students collaborate, communicate, and make strategic decisions.
Simulations enhance problem-solving abilities, leadership skills, and ethical thinking.
Integrating AI within simulations exposes students to the technology, allowing them to leverage it for summarizing complex concepts and breaking down intricate theories.
The real-time aspect of simulations keeps students engaged and focused on genuine learning, providing a refreshing break from traditional assessment methods.
Conclusion
As AI continues to shape the educational landscape, educators must encourage its responsible and effective use. While there's a place for AI in education, it should serve as a complementary tool rather than a shortcut. Anita and Robert, with their extensive teaching experience, have shown us how business simulations play a vital role in shaping the future of education by providing students with an interactive, real-time learning experience that fosters critical skills and ethics.
In the face of AI challenges, business simulations stand out as a beacon of authentic education. They not only address plagiarism concerns but also equip students with skills that will serve them well beyond their academic journey. The integration of AI and simulations has the potential to revolutionize education, offering students a holistic and engaging learning experience.
In this ever-evolving world, it's clear that the future of education lies at the intersection of AI and business simulations. As educators, it's your responsibility to steer students toward the path of genuine knowledge and ethical learning. Together, we can embrace the opportunities presented by AI and ensure that education remains a powerful force for positive change.
Experience the Power of Business Simulations: Request a Demo Today!
Interested in experiencing the benefits of business simulations in the age of AI, firsthand? Request a simulation demo today! Discover how our simulations can help your learners engage in experiential learning, improve critical thinking, and tackle the challenges posed by AI.