StratX Simulations at the American Marketing Association Conference
Professors often find it a challenge to teach the "The Big Picture" in the classroom. Using a simulation teaches students how the different functional areas of a business interact and impact one another. They offer a risk-free platform that helps students test theories and make decisions.
StratX Simulations recently hosted a discussion panel with professors who use simulations at the annual AMA conference in San Francisco. Main topics included:
Incorporating simulations as an education technology tool in the classroom.
Value in data analysis and market simulations in a learning session.
Importance of using experiential learning tools.
Simulation teaching tools for a strategy classroom.
The panelists:
| | |
| --- | --- |
| Professor Sundar Bharawadj, the University of Georgia (Georgia) | Irina Kozlenkova, Michigan State University (Michigan) |
| David Stewart, Loyola Marymount University (California) | Marketing Strategy author Robert Palmatier, the University of Washington – Seattle (Washington) |
The professors shared best practices on how to use simulations in the classroom. They also gave their opinions on how business strategy games compare to other forms of active learning, and provided tips to marketing educators considering marketing simulation games.
This highly informative and engaging panel garnered an audience of 20 attendees interested in learning more about business simulations and insights on this teaching method. StratX Simulations is happy to provide more information on how business simulations can make an impact in the classroom. If you would like to see a demo of one of our simulations, please contact us.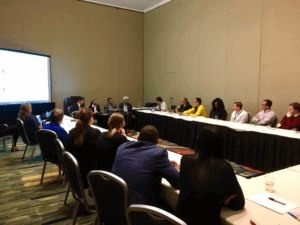 To learn more about using business simulations in the classroom, download our Guide.