E-Learning in Education: Benefits and Best Tools to Support Remote Teaching and Learning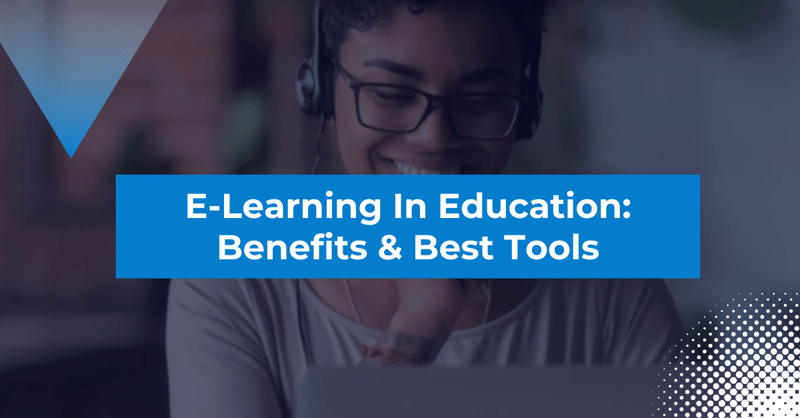 The modern world offers us more innovative and adaptive ways to learn than ever before. We have handheld devices whose processing power was something science fiction writers could only have dreamed about several decades ago. We have laptops that allow us to work from anywhere, find out any information, video call and conference with one another, and surf the internet with brilliant ease. For most intents and purposes, we have superseded much of the traditional forms of data and information transactions, communication, education, and entertainment. Welcome to the future.
In this piece, allow us to explore the benefits of e-learning, the best tools to support remote teaching and learning, and why we think (regardless of COVID-19) that the future of education was always destined to incorporate remote learning.
The numerous benefits of remote learning
Some people have been learning remotely for years, but in light of 2020's major pandemic, millions have had to quickly react and adapt their educational approach in order to continue learning. Academic and educational institutions around the world have truly done a commendable job this year, and that has been helped by the fact that remote learning offers many advantages, such as:
A safer and more accessible environment to students - during a pandemic it has been key to protect the health of learners and there's no better protection than allowing them to study from home
In an educational institution, you are limited to the courses and educators that are available, but with remote learning, a huge digital world of possibilities opens up
Students gain more autonomy over their education when learning at a distance - better scheduling options, flexible timetables, digital submissions, pre-recorded classes and more for example
For younger learners, taking part in remote learning removes the distractions that other classmates present (though it presents many distractions that can instead be found at home)
Remote learning is great for shy, quiet, or introverted students who feel anxious in a classroom setting. They are more likely to ask questions and participate in activities from the sanctuary of their home, often with a direct line to their teacher
Teachers are able to give better and faster feedback thanks to high-tech tools and the ease of scheduling individual meetings with students
For many students, online instruction offers a more effective learning experience because of the ability to have short, interactive modules that can be repeated, when and if needed. This microlearning approach is a great way of improving knowledge retention.
Simulations for students
Aside from typical didactic instruction lessons where students listen, take notes, remember, and are at some points tested on their memorised knowledge, there are other methods of teaching going on. One approach that has been proven to get exceptional results is simulation games, which are applicable to all ages. Developers around the world have found that creating a series of realistic simulations around business activities is perhaps the best approach.
Business simulation games might use a particular type of business to teach about other skills and knowledge, for example, children who play Zoo or Farm Tycoon are learning about animals, hospitality, finances and organisation. Professionals whose employer runs a business simulation game of a product launch are preparing their employees (or students) for the future, for multiple scenarios, obstacles, and more.
One of the great things about simulation games is that they can be performed remotely just as well as they can be performed in person, especially for one-player games. For team-based simulation exercises, communication will be slightly different in a remote scenario, but that's the biggest change.
StratX has gone to great lengths to create simulation games that can be performed remotely and that will challenge participants to practice a wide range of their theoretical skills and knowledge in realistic environments, all from the comfort of their home.
Virtual Classrooms
Distance learning for groups, whether it be children, university students, or professionals on a training course, will demand the need for virtual classrooms. It's virtually unavoidable. We need to bring people together, to share ideas, to use time wisely, to answer questions, to build rapport, and for many other reasons that also confirm that the physical classroom was always an inevitable necessity.
A virtual classroom, like a traditional classroom offers:
Tools, features, and resources
A space to engage, collaborate and discuss
A place where a curriculum can be followed
To make sure that your virtual classroom is ideal for your group of learners, make sure that you opt for a platform that offers:
A high quality messaging house - The ability to type questions and responses allows everyone to feel more included, and it reduces the reliance on audio, which can be flakey with group calls over the internet. Text-based communication will be enough for many students, who can go at their own pace.
Audio compatible - When videoconferencing isn't necessary or accommodating to participants, an audio feature may be the perfect complement to text-based learning. It's faster, more human, and exists as a comfortable middle between text and video.
Video calls - The ultimate virtual classroom will feel most like a classroom, and that requires participants sat at their desk, looking at a video stream of their class. This smooth online experience might not feel authentic to students, but for educators, it's the closest they can get to the previous system.
File sharing - Teachers need to be able to send attachments to their students during the class. Of course, they could send an email, but to make things streamlined, file sharing within the classroom is highly effective.
Screen sharing - The person leading the class needs to the ability to switch between their video and their computer screen, so that they can show students what they are seeing, alternatively…
Digital whiteboards - Like a physical whiteboard, it's a space where the teacher can write, draw diagrams, and place key information. At the hit of a button, students should also be able to interact with the board if called upon.
Participation and group settings - Being able to click that you've understood or 'wave' to get attention is important for individual learners so that it doesn't feel like a pre-recorded webinar. At the same time, group learners will be given extra features during activities, such as a breakout room or a virtual huddle, allowing for collaboration and competition.
Final thoughts
Whilst we could suggest a few remote learning and virtual classroom platforms to you, we wouldn't want to be seen as biased or pushing connected companies. Rather, we've supplied you with comprehensive lists of what makes a quality platform, from an educational standpoint. Our final recommendation is to keenly pursue a way of blending an enjoyable virtual classroom experience with the opportunity for students to experientially learn through simulation exercises. You can also access our Instructor's Guide to Virtual Teaching to help guide you in your virtual teaching journey.