Distance Learning Success Stories to Inspire You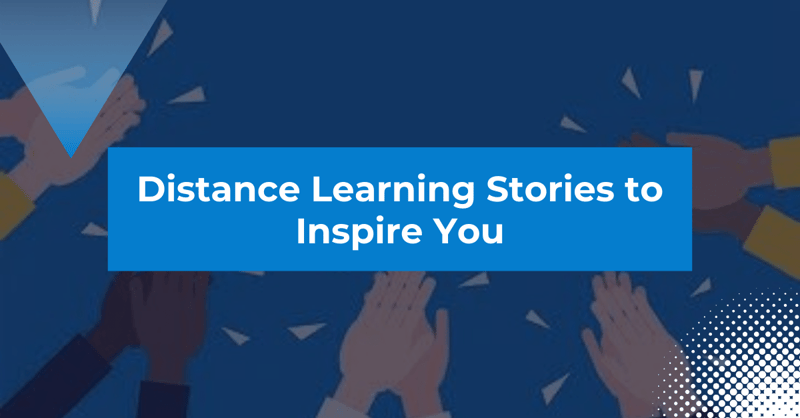 Since COVID-19 threw the world into a state of dismay and universities and corporate academies had no choice but to close their doors, we're continuously inspired by our community of professors who have risen to the challenge and continue to engage and challenge their students while distance learning.
With less social interaction, distance learning certainly poses its challenges. However, with the right tools, professors can turn the online learning experience into an interactive and impactful one. Our range of business simulations are fully web-based and can be used for online programs with ease, they bring many benefits including helping to create an intense yet engaging and competitive spirit that is often difficult to establish while teaching at distance.
To inspire you too, here we share 5 short stories from our community of educators who have turned distance learning into a true hit!
Distance Learning Success Story 1: A chance to try out something new
Long-term Markstrat user and Professor Dr. Carsten Bartsch from HHL had his doubts about running our heritage simulation entirely online. But by the second day he was already a big advocate of running remote simulation programs and is still enjoying the lively discussions between his students today.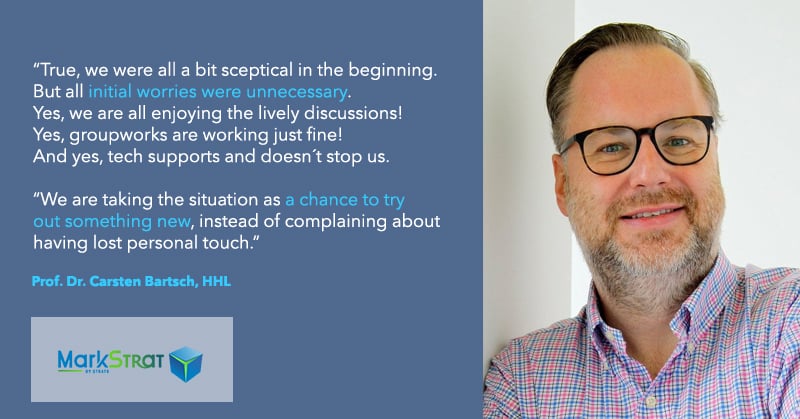 Distance Learning Success Story 2: Applying learnings for executives
Brian Worsfold from Ashridge Executive Education & Hult International Business School tells us his program using our Blue Ocean Strategy Simulation online was a great success and helped to apply strategic innovation learnings for his executive students.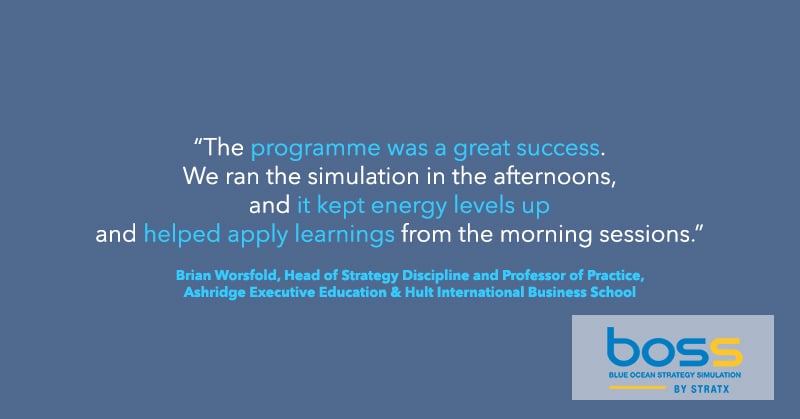 Distance Learning Success Story 3: A technical dream
Senior Lecturer Adam Raman from Kingston Business School ran a very successful and seamless remote session using Markstrat.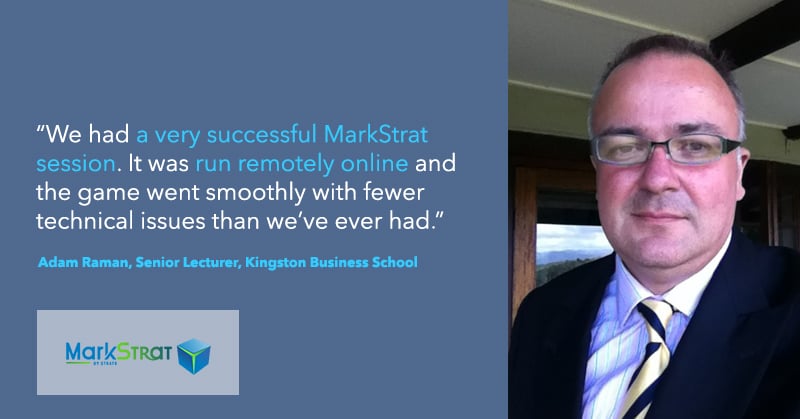 Distance Learning Success Story 4: A great future for online teaching
After using Markstrat to assist his online programs, Robert D. Gauthier is excited about the future of online teaching.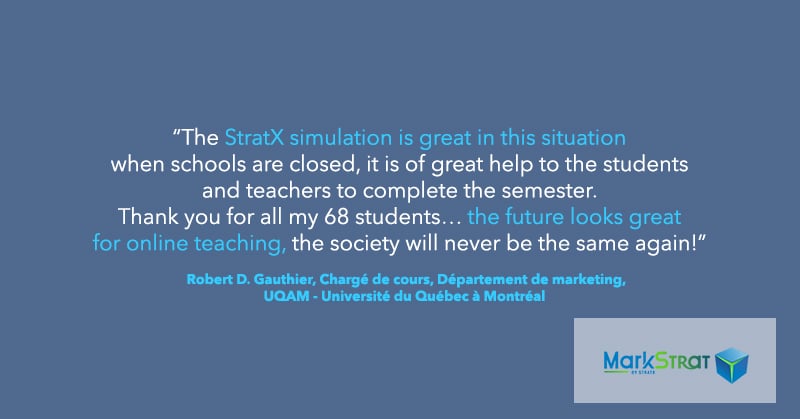 Distance Learning Success Story 5: An unforgettable international experience
EMBS didn't let social distancing get in the way of their annual Markstrat challenge. Instead they took the challenge online, connecting 59 students of 14 different nationalities from 5 universities in one unforgettable learning experience that allowed the participants to test and implement their marketing knowledge.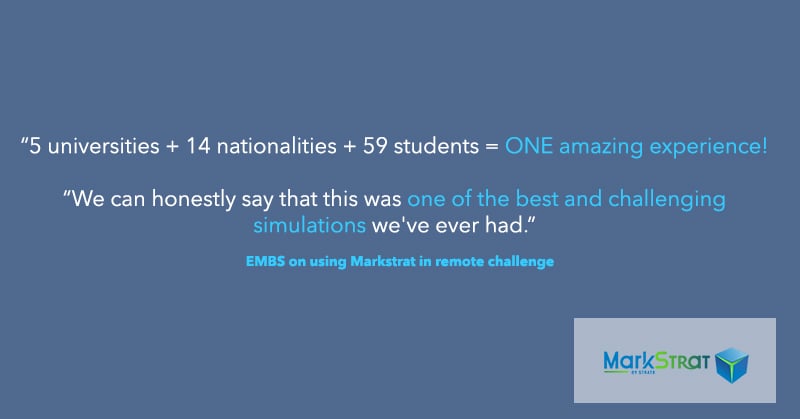 Distance Learning Success Story 6: Helping to encourage introverts
As a loyal Markstrat user who is used to using Markstrat in the traditional classroom setting, Andres Terech enjoyed using Markstrat remotely with platforms like Zoom to host feedback sessions and use breakout rooms to encourage students to speak up in smaller group settings.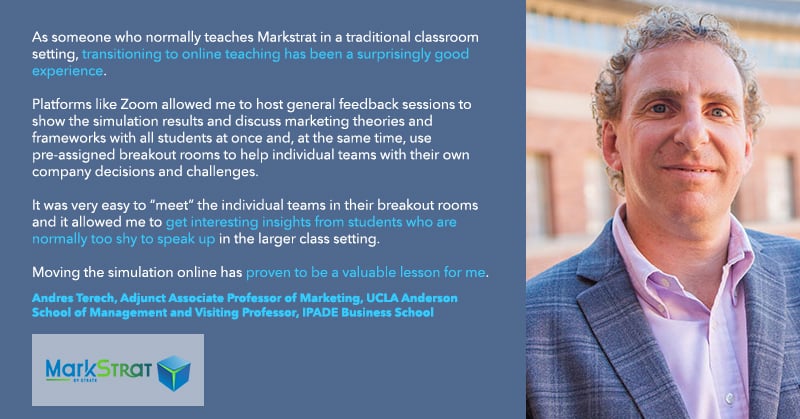 Distance Learning Success Story 7: Excited to be using Markstrat remotely all summer
Seth Ellis is thrilled to be using Markstrat for his summer remote programs and is finding some elements such as the Zoom breakout rooms to provide a more beneficial experience than traditional classrooms.

Make online learning engaging and impactful
While the education and corporate world has been abruptly thrown into the world of distance learning with little warning, it's likely that online programs will continue to prosper in a post COVID-19 world. Don't hesitate to get in contact with one of our business simulations experts who can help you turn your online learning programs into highly engaging and impactful experiences.