Webinar Recap: Teaching the Circular Economy with a Simulation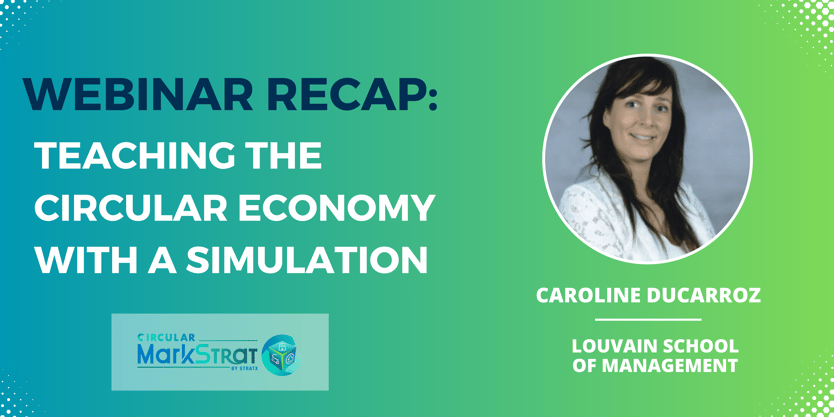 How can you effectively instill the essential principles of sustainability and circular economy in the minds of future marketers, leaving a lasting impact?
This question served as the focal point of our recent webinar, "Teaching the Circular Economy with a Simulation." In case you missed it, you can catch the recording here.
Throughout the session, we delved into innovative approaches to educate students on these vital topics, with a particular focus on Circular Markstrat, our groundbreaking business simulation game designed to teach the circular economy. Professor Caroline Ducarroz from the UCLouvain School of Management and who co-developed the simulation, spearheaded the discussion, providing invaluable insights into integrating simulations into classroom settings. Now, let's dive into the key takeaways that emerged from this inspiring dialogue.
Challenges and Solutions: Teaching Sustainability and Circular Economy
To kick off the webinar, we surveyed participants on the most significant challenges they encountered when teaching sustainability and circular economy principles. The poll results shed light on some common hurdles:
Engaging students: 32% of participants found it challenging to captivate students' interest in these topics.
Integrating sustainability concepts: 36% cited difficulties in seamlessly incorporating sustainability into their curriculum.
Finding suitable materials: 30% faced obstacles in sourcing appropriate resources, while the remaining respondents noted various other challenges.
These challenges, although not unique to sustainability education, underscored the importance of innovative and interactive teaching methods that foster student engagement and application of concepts.
Benefits of Using Markstrat for Market Segmentation and Product Positioning
Drawing from her extensive experience with the Markstrat simulation, Professor Caroline Ducarroz highlighted its efficacy in teaching market segmentation and product positioning. By immersing students in a virtual market, where they compete with one another to sell tablet-like products to different segments, Markstrat offers a rich learning experience.
This interactive simulation enables students to grasp the distinction between facts and perceptions regarding consumer expectations while fostering a stimulating and competitive environment. Witnessing students' engagement and their ability to develop a competitive spirit has been an awe-inspiring aspect for Caroline.
Integrating Sustainability into Marketing Education at UCLouvain with Markstrat
Caroline emphasized that UCLouvain's commitment to sustainability encompasses all its programs. However, she acknowledged the challenge faced by professors across various disciplines who may lack expertise in sustainability principles.
Enter Markstrat—a powerful solution to this dilemma. By creating a version of the simulation that places a spotlight on sustainable marketing practices, students can gain a deeper understanding of sustainability's role in business and marketing. This innovative approach not only paves the way for a more sustainable future in education but also extends its impact far beyond the walls of UCLouvain.
The Circular Markstrat Simulation: A Holistic Approach to Teaching Circular Economy in Marketing
Professor Ducarroz shed light on the holistic approach offered by the Circular Markstrat simulation when it comes to teaching the circular economy in marketing. This simulation seamlessly combines environmental and digital elements, providing real-world insights into circular economy principles.
The simulation encompasses the following learning objectives:
Raising Environmental Awareness:

Students become acutely aware of the environmental challenges posed by business decisions through their participation in the virtual market.
Identifying Actions for Transition:

By simulating business decisions and their outcomes, students are encouraged to identify actionable steps for companies to transition towards a circular economy.

Evaluating the Impact of Sustainable Actions:

The simulation enables students to evaluate the impact of sustainable actions within the virtual market, underscoring the importance of making sustainable choices and their potential environmental impact.

Increasing Student Engagement:

Managing their own virtual companies through the simulation fosters a higher level of engagement among students. It provides them with an opportunity to apply their knowledge in a real-world scenario, thereby testing their understanding of sustainability in marketing.
Circular Markstrat: Addressing Environmental Challenges on Four Fronts
Caroline outlined how Circular Markstrat comprehensively addresses environmental challenges across four key axes:
Strategic Actions:

The simulation empowers students to make impactful decisions within their virtual companies, such as reducing carbon footprints, conserving natural resources, extending product lifespans, and promoting repairability. The circularity wheel monitors progress, while four new circular attributes—recyclable materials, carbon footprint, durability, and reparability—can be modified to drive sustainable outcomes.



Performance:

Teams' performance is evaluated based on the Share Price Index, which considers both financial success and eco-scores. This holistic assessment motivates participants to excel in terms of both financial performance and environmental impact.

Market Pressure:

The simulation incorporates market dynamics and consumer demands, particularly from influential segments like millennials and Gen Z. Understanding and responding to these expectations are crucial for shaping participants' production and marketing strategies.

Government Pressure:

Circular Markstrat introduces a fictional government element that imposes eco-taxes and penalties on companies that fail to adhere to circular initiatives. This element highlights the significance of government regulations and incentives in driving sustainable practices.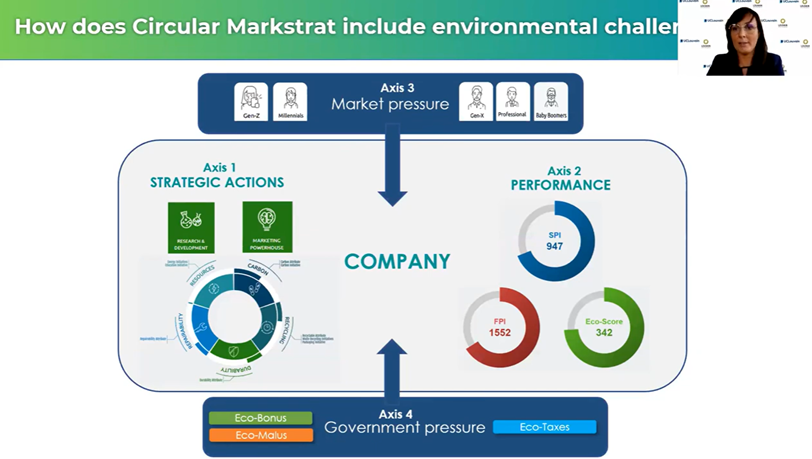 The 4 Axes of how Circular Markstrat incorporates environmental challenges
Within the dynamic environment of Circular Markstrat, students have the opportunity to make strategic decisions that directly contribute to reducing carbon footprints, extending product durability, and embracing circular principles. By incorporating performance evaluation, market dynamics, and government influence, the simulation provides a comprehensive learning experience that prepares participants to navigate the complexities of sustainability in the real world.
Transformative Learning Outcomes: Empowering Students with Circular Strategies in Circular Markstrat
Caroline's experience in Circular Markstrat showcased impactful learning outcomes for students, including:
Solid understanding of the connection between strategic marketing and the circular economy.
Engagement in critical discussions and analysis through real-world examples like France's Reparability index and the upcoming EU energy label.
Recognition of the circular economy as a process and identification of actionable steps for companies to transition.
Shift in perspective for skeptical students, realizing the significance of environmental challenges for businesses.
Development of an understanding of the constraints involved in transitioning to a circular economy.
Fostered a holistic comprehension of sustainability principles.
These learning outcomes reflect the profound impact of Circular Markstrat in equipping students with the knowledge and mindset to drive sustainable change in the business world.
What if You Aren't an Expert in the Circular Economy?
Caroline also addressed a common concern among instructors: the fear of not being an expert in the Circular Economy. However, she assured the audience that teaching the circular economy with Circular Markstrat is not only achievable but also tailored for marketing & business professors.
Caroline emphasized that although some investment is required, a comprehensive toolkit will soon be available to support instructors in designing their courses. This toolkit will include recommended readings, introductory materials on environmental issues and concepts, as well as quizzes for students. With these valuable resources at hand, instructors can confidently navigate the intricacies of the circular economy and deliver an impactful educational experience.
Teaching Tips to Making A Successful Experience
Caroline's pilot experience with Circular Markstrat provided valuable tips for teaching sustainability and circular economy principles. Here are her specific recommendations:
Start with a solid foundation: Ensure students attend the presentation session and read the participant handbook.
Assess knowledge: Use a quiz at the simulation's outset to gauge students' understanding and identify areas for clarification.
Foster interactive discussions: Engage students in conversations about circular economy strategies.
Explore real-life examples: Encourage students to discuss their circular wheel and examine sustainability attributes using relevant examples, such as using corn-based components in smartphone cases for biodegradability.
Demonstrate understanding: Have students deliver a final presentation to showcase their comprehension.
By implementing these tips, instructors can effectively teach circular economy principles, empowering students to embrace sustainable practices.
Positive Student Feedback on Circular Markstrat
Caroline conducted a survey among her 44 students to evaluate their learning experience and satisfaction with Circular Markstrat. The results were highly encouraging, reflecting the effectiveness of the simulation:
Strong grasp of circularity concepts: A majority of students (84-95%) demonstrated a solid understanding of circularity concepts.
Improved comprehension of circular economy levers: 80% of students agreed that Circular Markstrat enhanced their understanding of the levers utilized in a circular economy approach.
Substantial learning outcomes: An impressive 95% of students felt they learned significantly through their engagement with Circular Markstrat.
Favorable satisfaction ratings: 82% of students rated Circular Markstrat with 4 or 5 stars, indicating high satisfaction levels.
Based on the overwhelmingly positive feedback, Caroline plans to continue utilizing Circular Markstrat in future programs, recognizing its effectiveness in promoting understanding and student engagement.
Conclusion: Empowering Educators and Students for Sustainability
The webinar on Teaching the Circular Economy with a Simulation highlighted the transformative power of Circular Markstrat in instilling sustainability and circular economy principles. Key takeaways included the need for interactive teaching methods, the benefits of using simulations for market segmentation, and the success of Circular Markstrat in promoting understanding and student engagement.
Caroline's experience at UCLouvain showcased the integration of sustainability into marketing education, while positive student feedback validated the simulation's effectiveness. For educators without expertise in the circular economy, the forthcoming toolkit offers support and guidance.
Overall, the webinar emphasized the importance of integrating sustainability into education and empowering students to drive sustainable change. Through simulations like Circular Markstrat, we can shape a more sustainable future.