How to Inspire Curiosity in Students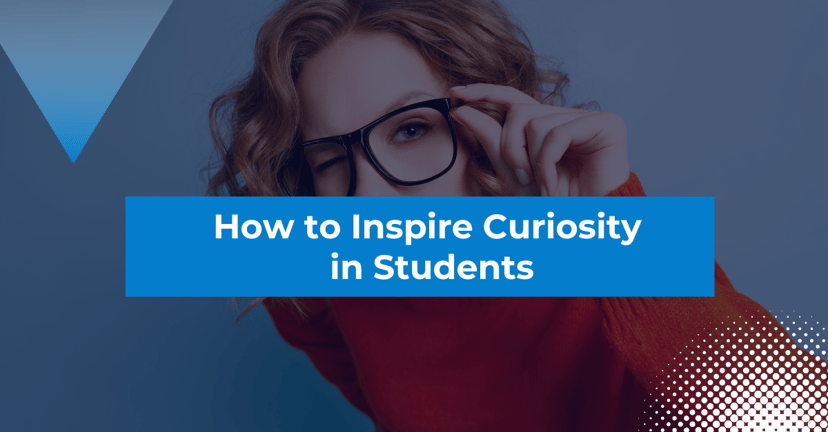 The role of an educator is multifold. Leader, psychologist, listener, guide, planner, researcher, assessor, mediator, friend, and more. On top of all of these, they must also try to be an inspiration. This is easier said than done, of course, but mastering the art of inspiration, and generating curiosity among students is one of the purest, most noble, and most enjoyably rewarding aspect of education.
In this article, we're going to help you inspire curiosity in students and develop the environment for a curious classroom that wants to learn and grow their knowledge.
What is Curiosity,
And
Why Is It So Important For Students
?
If you've arrived at this article because you've noticed a classroom full of passive students waiting to be spoon-fed information, and who need a great deal of hand-holding in order to achieve anything, then welcome. This is going to be a great resource for you.
Curiosity is a strong desire to learn and know more. It is an active trait, not a passive or reactive one. It is a quality that is demonstrated through questioning, investigation, and exploration. The curious are not always seeking knowledge in order to utilize it, but simply have the thirst to know more.
A classroom full of this kind of student sounds like a dream for most educators. So, what does it take to make it come true?
The Key to Inspiring Curiosity (For Educators)
The truth is that there is no single solution, but what can be filtered throughout all of the following 5 steps is enthusiasm and encouragement. You have to change the mood, starting with yourself.
5 Steps to Help Build a Curious Classroom
Step one:
Value and Reward Curiosity
Traditionally, we fall into routines whereby we reward the best-performing students for their good outcomes and high grades. This reinforces intelligence and application, but it doesn't always reward curiosity. What's more important for you to do as an educator, though more challenging, is to recognize when curiosity has been shown. You should try to notice students who are inquisitive, who dare to try new things, who carry out their own investigations, and who want to explore intellectually. Even better, try to notice when this curious behavior has positively contributed to overall classroom learning, guiding other students in the right direction, and serving as good motivation for learning. With this new perspective, consider that some students might merit better grades because of their curiosity.
Step Two:
Run Investigations & Inquiries
A wonderful concept to try and run is class investigations, which is where the teacher or educator presents a challenge that asks students (as a collective) to be creative, motivated, and curious. Almost anything can become an investigation, and at any level of education.
Choose a topic, find a question, develop a hypothesis to be challenged, and ask the class to investigate and counter your concept. What they come up with can end up being hilarious, educational, insightful, and sometimes downright bizarre.
The payoff of an investigation is a big dose of curiosity in your class! With so much confidence being built and imagination used, students will be wanting more investigations to get stuck into (hopefully). Once the students have done a class project, you can consider breaking them up into smaller groups, or letting them run independent investigations.
Continuous investigations present the possibility for infinite possible learning opportunities and empowerment. By drawing on popular culture or popular themes within the course materials, you can encourage students to curiously find out as much as possible. On top of that, if the investigations are split into small groups, there is a good chance for competition to arise, which, if managed well, can be incredibly effective.
Step Three:
Humor!
We recently covered the story of Professor Suresh Paul Anthony, who aims to disarm preconceived fears and encourage curiosity and learning by introducing a great deal of humor into his classes. As well as cracking jokes and making students laugh, Suresh, known as Spa to his students, removes the notion that the professor is all-knowing and the student is ignorant. To do this, he makes fun of himself.
Self-degrading humor might be the key for some, but really the point is that sharing laughs with your students is going to help you build camaraderie and rapport. When the students are on your side and buy into what you say, they're going to believe you when you share something genuinely interesting, helping you to drive their curiosity. In a way, it's a feedback loop. When you're interested, they become interested.
Step Four:
Simulations
Here at StratX, we fully understand the value that simulations bring to our clients. We've seen universities, business schools, and other higher education facilities embrace simulations and reap incredible rewards. As the students are forced to make decisions and face their consequences, they are constantly asking 'What If?'. They want to play again, try different strategies, and see where they can improve and learn more. This is curiosity-building in action.
Step Five:
Keep It Current
Think about this. What causes more discussion, debate, and raises more questions - something that happened last week, or something that happened last year? Well, of course, it depends on the event in question, but in general, recent events are most likely to cause discussion. Immediacy is a great driver for curiosity, especially while we are waiting for the complete facts to be revealed.
When we are missing key details, asking why, when, who, what, and where allows for more creative research and findings to take place.
Verdict:
Curiosity Changes Everything
As we said at the beginning, a passive class is a class lacking curiosity. By trying new things, engaging the students, and probing their interests, you can help to make them more inquisitive. For some, it might come naturally, but for others, your increased efforts might just be the push they needed to find their best inner-student. Good luck on your journey!
Inspire curiosity in your courses by implementing a simulation, get an instructor demo today.