Meet the StratX Simulations Team This Year! 2023 Business Education Conferences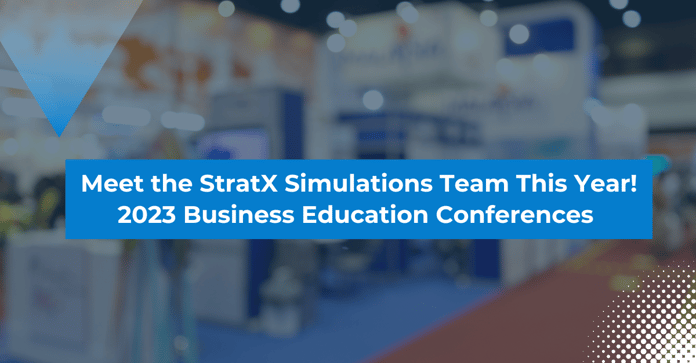 We are excited to announce that the StratX Simulations Team will be attending five major business education conferences this year. We look forward to meeting and engaging with fellow educators and industry professionals, sharing our knowledge and experience, and learning from others. Will you join us?
AFM International Congress - Vannes, France
We will first be heading to Vannes, France for the AFM International Congress from May 10-12th. This event is an opportunity for academics and professionals in the finance industry to come together and share their research and experiences. We are excited to engage with participants and discuss the value of experiential learning, including the use of simulations, in finance education.
EMAC Annual Conference - Denmark
We will then be attending the EMAC Annual Conference in Denmark from May 23-26. This conference will bring together academics and practitioners from around the world to discuss the latest research and trends in marketing. We are eager to connect with colleagues, learn about the latest developments in our field, and share our insights into the use of simulations in marketing education.
EFMD Annual Conference - Lyon, France
Then, we will be attending the EFMD Annual Conference in Lyon, France from June 11-13. This conference is one of the most prestigious events in the world of business education, bringing together leading educators and practitioners to share insights and best practices. We are excited to connect with our peers, share our own experiences, and learn from others about the latest innovations in business education.
AMA Summer Conference- San Francisco, USA
This summer we will be attending the AMA Summer Academic Conference in San Francisco from August 4-6. This conference is designed for marketing scholars and researchers to present their latest findings and insights. We are looking forward to connecting with our peers, learning about the latest marketing research, and discussing the use of simulations in marketing education.
MMA Fall Educators Conference - Orlando, USA
Finally, we will be attending the MMA Fall Educators Conference in Orlando from September 27-29. This conference is designed for marketing educators and will focus on the latest trends and innovations in marketing education. We look forward to meeting fellow educators, discussing best practices, and sharing our insights on the use of simulations in marketing education.
We will be presenting our simulations focusing on sales & negotiations, marketing strategy, digital marketing, circular economy and more, and will be happy to discuss your program needs, whether for academic or corporate learning initiatives.
Please feel free to reach out beforehand to let us know if you will be attending any of these conferences so we can connect!