Explore 2022 Marketing, Sales & Learning Conferences | Book a spot!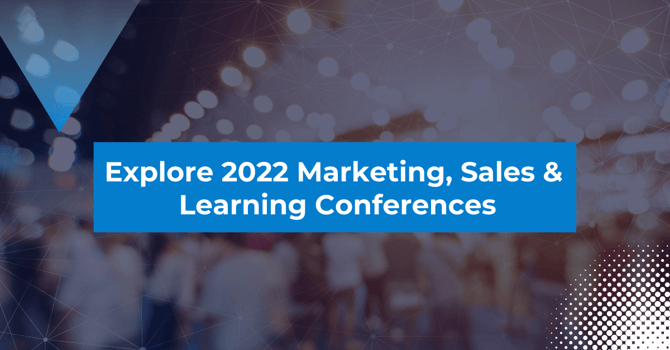 The wait is over! We are thrilled to finally be able to attend several in-person conferences across the globe in 2022. Below is our selection of several insightful, informative events focused on marketing, sales & learning. We are looking forward to connecting with academics and professionials from the world of higher education & training at these venues. Will you join us?
Learning Technologies - Paris, France
We will attend the Learning Technologies Conference taking place in Paris, France May 18th-19th 2022, and hope to connect with L&D professionals and specialists in the e-learning domain.
EMAC Annual Conference - Budapest, Hungary
Come visit us at booths 5 & 6 at the EMAC Annual Conference, hosted by Corvinus University in Budapest, Hungary from May 24th -27th, 2022. The conference is one of the biggest and most prestigious in marketing education will focus on the future of Marketing as a discipline.
EFMD Annual Conference - Prague, Czech Republic
You can also meet us at the EFMD Annual Conference in Prague, Czech Republic from June 8th-10th, 2022. This year's theme is "What brought us here might not get us there!" and will take a look at what the future of work will be like from a leadership & organizational perspective.
Sales Educator's Academy Conference - Birmingham, United Kingdom
The Sales Educator's Academy Conference held in Birmingham, UK from June 21st - 23rd 2022 will be a great opportunity for sales academics from around the world to connect and exchange best practices in all aspects of sales education. Aston University will be hosting this insightful event.
Academy of Marketing Conference - Huddersfield, United Kingdom
We will also attend the Academy of Marketing Conference in Huddersfield, UK from July 5th-7th, 2022. This conference will bring together marketing academics to discuss all aspects of the marketing practice.
AMA Summer Academic Conference - Chicago, USA
The AMA Summer Academic Conference, taking place August 12-14th, 2022 in Chicago, USA will emphasize research that illustrates how marketing can play a leading role in driving positive change and building a sustainable future.
MMA Fall Educator's Conference - San Antonio, USA
Come stop by our booth at the Market Management Association's Fall Educators' Conference, from September 21-23rd, 2022 in sunny San Antonio, Texas. The conference's theme will focus on "analytics in the classroom." We will be happy to show you how our simulations teach critical data analysis skills.
CIPD Annual Conference & Exhibition - Manchester, United Kingdom
We are thrilled to attend the CIPD Annual Conference & Exhibition in Manchester, UK from November 9th-10th. This event will bring together HR & Learning Development professionals to discuss how to improve the future of work for global teams, though training, coaching, well-being and more.
We will be presenting our simulations focusing on sales & negotiations, marketing strategy, digital marketing, circular economy and more, and will be happy to discuss your program needs, whether for academic or corporate learning initiatives.
Please feel free to reach out beforehand to let us know if you will be attending any of these conferences so we can connect!